Gombe Stream National Park is one of the smallest national parks in Tanzania, with only 52 square kilometers of the protected area along the hills of Lake Tanganyika's eastern shore. The site is located in the western Kigoma Region, only 100 kilometers north of Mahale Mountains National Park and only accessible via boats.
Established in 1968, Gombe Stream is most famous for Jane Goodall, the park's resident primatologist who pioneered long-term studies on chimpanzees from the 1960s and until today. The park's landscape is characterized by steep valleys and various types of forest vegetation including grasslands, alpine bamboo, and tropical rainforest.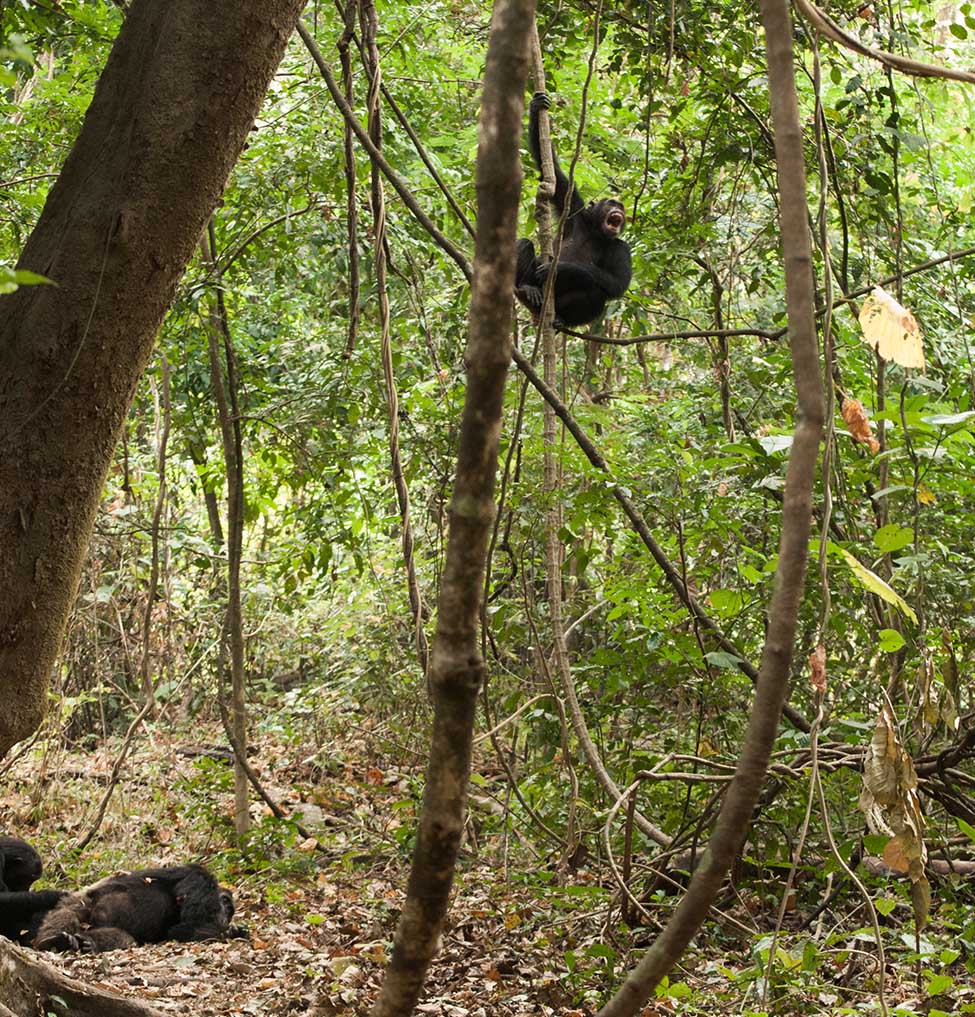 What Makes


Gombe Stream Special

Gombe Stream National Park is best known as the home to the Gombe Stream Research Center,  where Jane Goodall conducted groundbreaking research on chimpanzee groups, including their behavior and social structure. The park's habituated chimpanzee communities include the well-known Kasakela chimpanzee community consisting of wild eastern chimpanzees.

The park lies between Lake Tanganyika and a high rift escarpment, thus offering a wide range of altitudes from 773 meters at the lakeshore to more than 1,500 meters at the peak of the escarpment. This makes Gombe Stream one of the best sites to see flora and fauna.
What to Do


in Gombe Stream National Park ?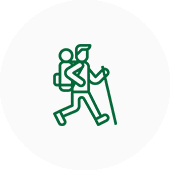 Trek the forests to observe chimpanzees in their natural habitat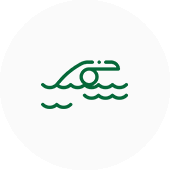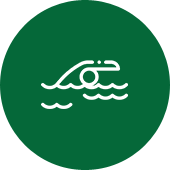 Swim and snorkel with colourful fishes in Lake Tanganyika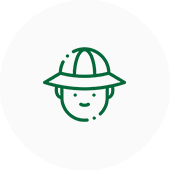 Go on a walking safari and see other wildlife and birdlife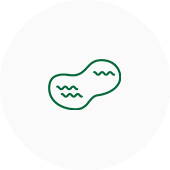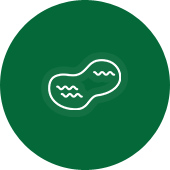 Take a dip in one of the streams located within the park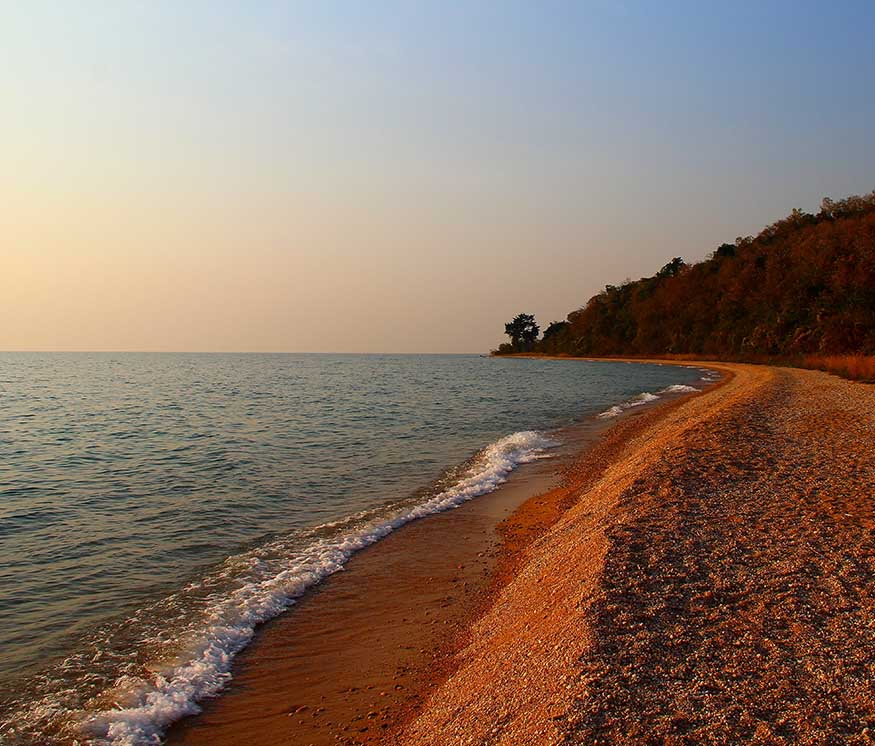 How to Get There
Gombe Stream National Park is only accessible via a boat from Kigoma Town. You can book your international flight to Kilimanjaro International Airport (JRO) in Arusha town or Julius Nyerere International Airport (DAR) in Dar Es Salaam depending on your travel itinerary.
You can take a taxi or you can ask to be picked up from the airport by your tour operator, who can also book your domestic flight to Kigoma Airport (TKQ)  as well as the private motorboat to Gombe Stream. The boat ride usually takes less than an hour.
Getting Around the Park
Trekking for 15 minutes surrounded by lush tropical vegetation , you come upon some chimpanzees high up in the trees. Then more trekking 30 minutes up into the hills to visit a waterfall where a good showering was done, perfect for cooling down and getting the sweat off.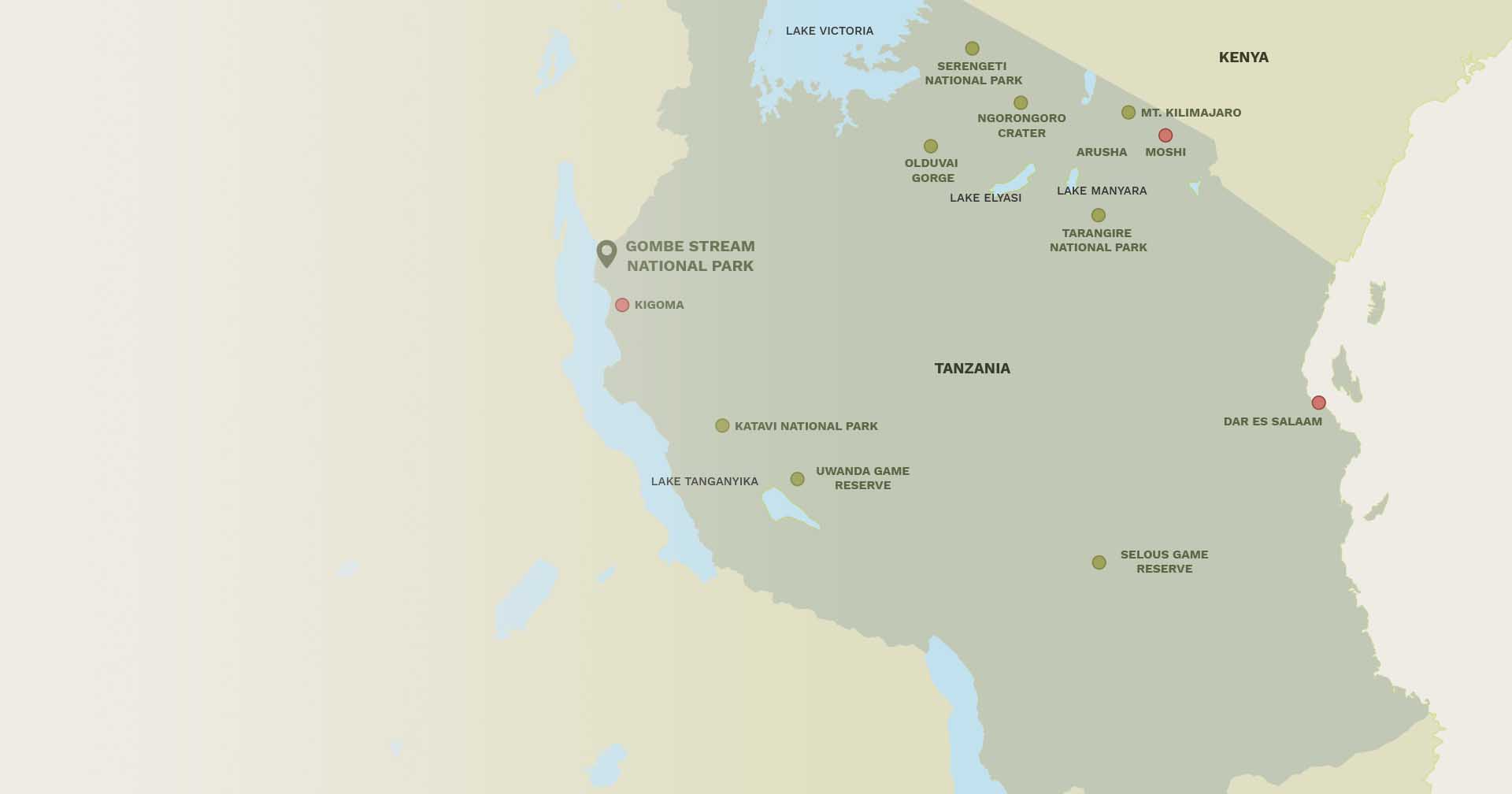 Gombe Stream
National Park

| | | | | | | | | | | | |
| --- | --- | --- | --- | --- | --- | --- | --- | --- | --- | --- | --- |
| JAN | FEB | MAR | APR | MAY | JUN | JUL | AUG | SEP | OCT | NOV | DEC |
JAN
FEB
MAR
APR
MAY
JUN
JUL
AUG
SEP
OCT
NOV
DEC
| | | |
| --- | --- | --- |
| JAN | FEB | MAR |
| APR | MAY | JUN |
| JUL | AUG | SEP |
| OCT | NOV | DEC |

Best Time
Trekking chimpanzees in Gombe National Park can be done throughout the year. 

High Season
The odds of finding them quickly is better towards the end of the dry season, from July to October, when the chimpanzees tend to stick to the lower slopes.

Low Season
During the wet season, it might take three to four hours to locate the chimps. The only private lodge in the park is closed in March-April.
9 Days Chimpanzee Tracking
Visit the remote Gombe Stream National Park in Tanzania and track habituated chimpanzees on the shores of Lake Tanganyika, and fly off to Serengeti National Park for a thrilling Big Five safari.
Contact Us
(+255) 754 363 191
info@africanoverland.co.tz